Reedin Super Wave 2021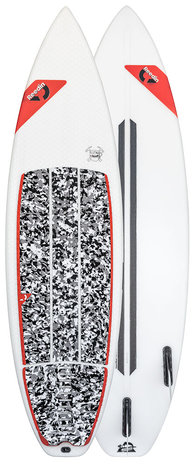 Product description
Reedin Superwave waveboard 2021
The Reedin Superwave is the perfect wave board for medium-sized to large waves. This board turns sharp and easily. Because of the constant rocker of the wave board, you get an immediate response to every input you give. The XSP core is a high-density EPS core that is practically unbreakable. If you are barreled in the waves, you will be able to find your board back in one piece. The Reedin Superwave is a super lively board that feels playful and provides unlimited grip and speed in the larger waves.
Available in size 5´8.
Pros:
- U-stringer for better flex distribution and more comfort.
- Playful and challenging surfing in big waves.
- Carbon stringer on bottom for added response.
Cons:
- Well, with this board you will want to explore foreign waves. That often means booking a ticket! 
What's included?
- The Reedin Superwave waveboard of course
- Matching Reedin Superwave fin set
Not included/Additional:
- Reedin Supermodel kite 010452530125
- ION Surf CORE boardbag blue 01043668010
Are you still hesitating?  Come to one of our stores or contact us: +31 (0)85 - 2733311 or mail to [email protected].
Product specifications
Article number

010477960107

EAN

855229900500