Learn to kite surf at the best kitesurf spot in the Netherlands
INTRODUCTION KITESURF LESSONS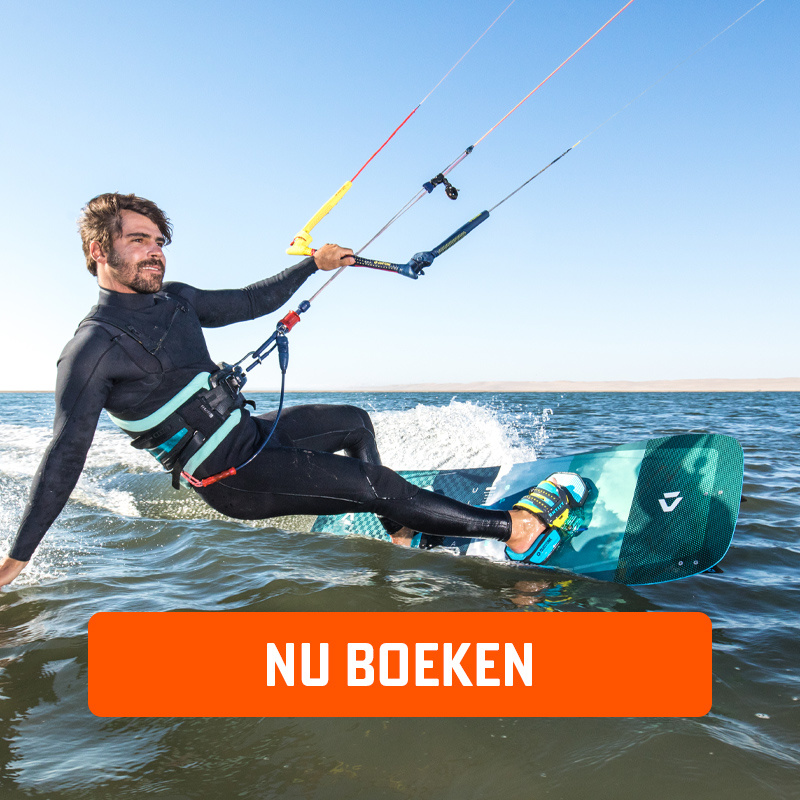 WHAT CAN I KITESURF AFTER TAKING AN INTRODUCTION LESSON?
Kitesurfing; you have seen or heard of it many times. You see that your friends make beautiful trips to faraway places. You want that too, right? That is why you took the step to learn to kite surf. And of course you want to get started as soon as possible. With the introductory kitesurfing course you will learn the basic theory and the knowledge about safety systems. At the Eurofun Academy we teach you how to kite surf faster, more clearly and more effectively. We want you to make board meters as soon as possible! Below is an explanation of what you can expect from Eurofuncenter during the introductory course.
PRICE: € 99
STEP-BY-STEP PLAN INTRODUCTION LESSON KITESURFEN
Brief instruction on the weather
Driving a training kite (power kite) on land
Safety instruction
Driving a 4 line kite surf kite
First board attempts
Bodydragging *
* Let yourself drag yourself through the water without a board by using the power of the kite.
3 DAY KITESURF LESSONS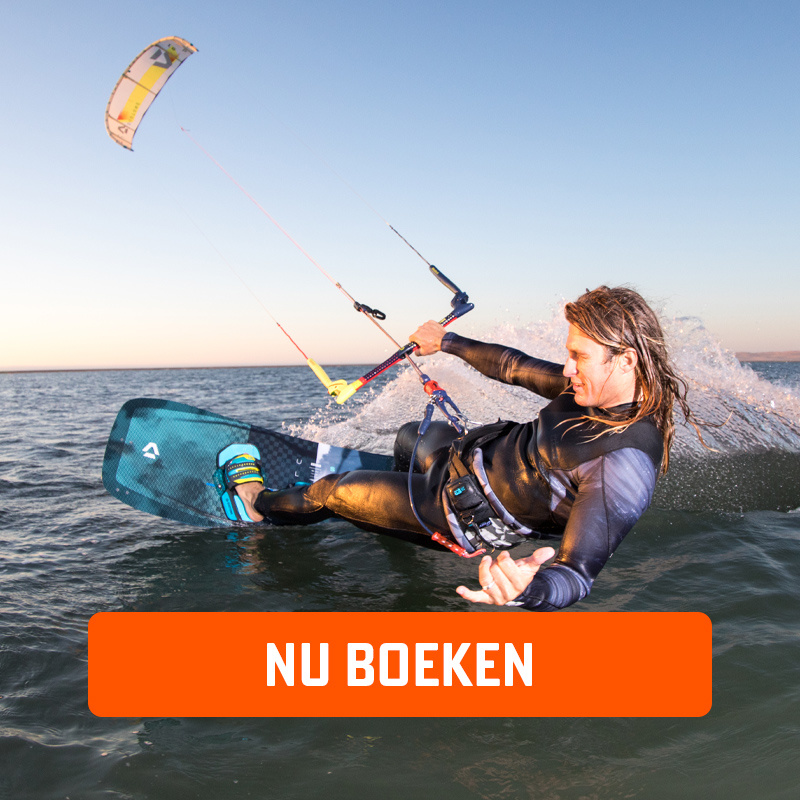 WHAT CAN I DO AFTER TAKING A 3 DAY KITESURF COURSE?
This is the mother of all kitesurfing courses. After three days of intensive supervision by our instructors, you are ready to go your own way in the kitesurfing sport. For the three-day course does not apply, an extra lesson is at our expense. In the three-day course you will learn everything you need to know to practice kite sport safely and prepared. We recommend that you take the three-day course in short succession. This way you keep the flow in and you achieve a satisfactory result the fastest. Below is an explanation of what you can expect from Eurofuncenter during the three-day course.
PRICE: 275, -
DAY 1
Brief instruction on the weather
Driving a training kite (power kite) on land
Safety instruction
Driving a 4 line kite surf kite
Bodydragging *
First board attempts
* Let yourself drag yourself through the water without a board by using the power of the kite.
DAY 2
More getting used to the big kite
Bodywearing against the wind
Create power strokes **
Technical explanation kiteboard
Make a water start independently
Independently adopt the basic posture
** A 'power dip' of the kite that you pull on the board.
DAY 3
Get used to the kite again
Body dragging with your kiteboard
Water start both ways
Theory explanation about: - Maintaining power while kite surfing - Ideal body position - Different sailing directions
Implementing the learned theory
PRIVATE FOR 2 KITESURF LESSONS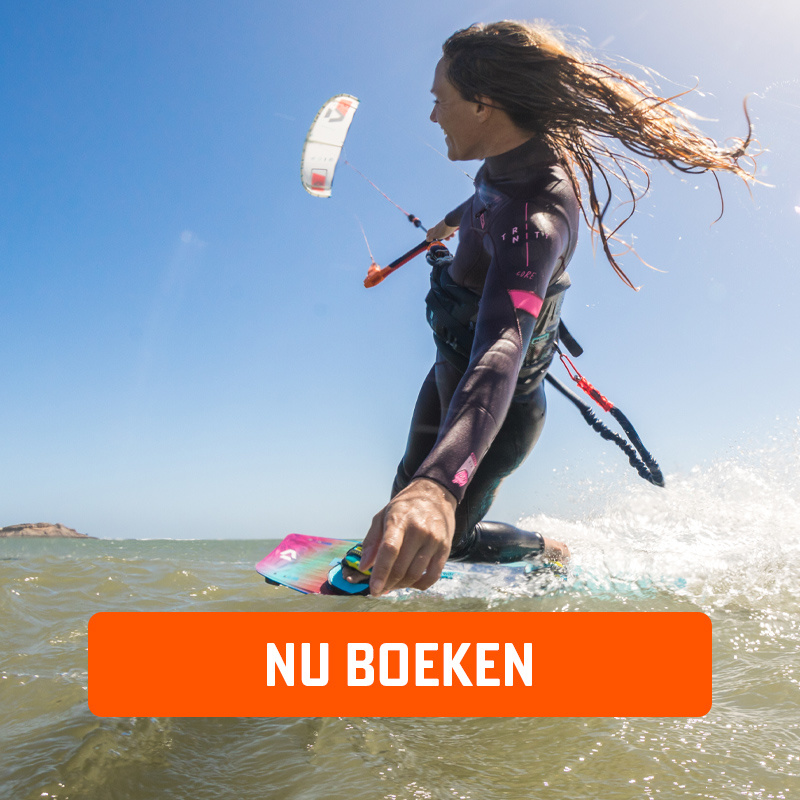 WHAT CAN I DO AFTER TAKING A PRIVATE KITESURF COURSE FOR 2 PEOPLE?
Do you want to learn kite surfing faster and do you need more personal attention, but do you only find yourself alone? Then the private course for 2 people is the best option. During our private for 2 lessons you will receive 1 to 2 guidance from the instructor. This will bring you what you want to learn at your own pace. This way you will not have to wait long on the waterfront and there is full attention for you. We recommend taking a 3 day course. In the three-day course you will learn everything you need to know to practice kite sport safely and prepared. Below is also explained what you would learn during a 3 day course. You are free to choose fewer days. Then you will learn what is described in day 1 or day 1 & 2. Class times are in consultation and also possible in the evening.
PRICE: € 250,- for two persons, €165, for 1 person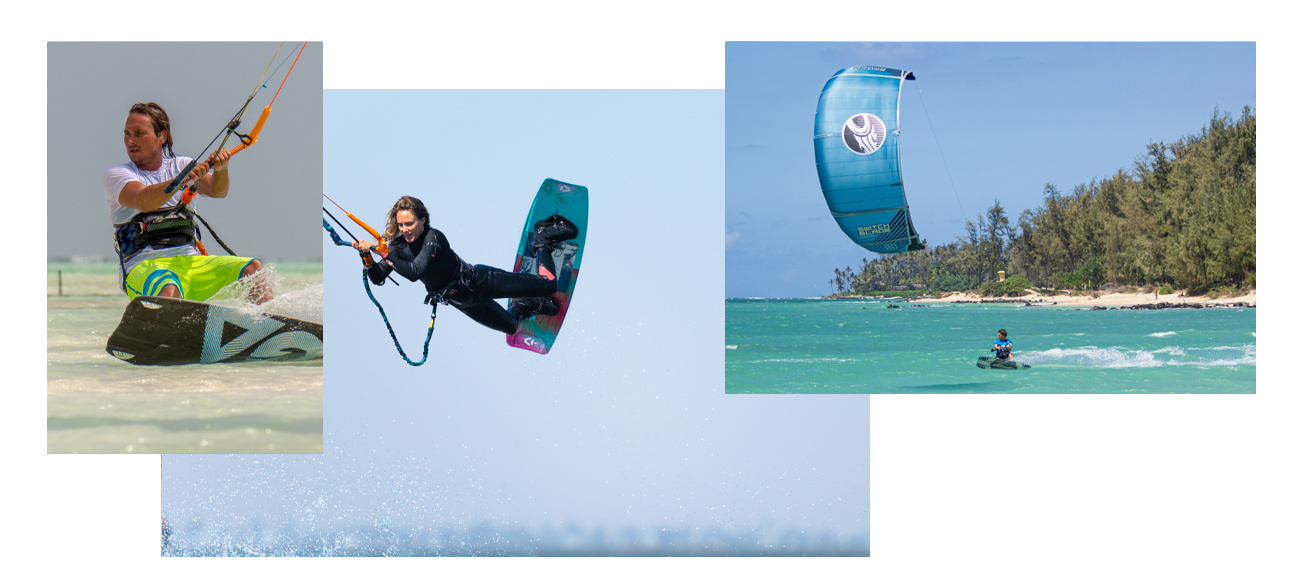 Book your kitesurfing lessons now at our VDWS accredited kitesurfing school.
Kitesurfing is one of the coolest sports you can practice on the water, but how do you get started? Where can you learn it and how long does it take? To find out everything about how to become a kick-ass kite surfer, we spoke with our own Jeroen and Pepijn. Both kite surfers from the first hour, who regularly sit on the water and know what kitesurfing in the next level entails. Follow the tips below and before you know it you will literally fly over the water:
What is kite surfing?
Kite surfing is a wind powered water sport that uses a kite and kiteboard to pull you across the water. Despite the name, it doesn't have to be about wave surfing. Kite surfing or kiteboarding can be done on smooth water, but also in choppy seas or big waves. All you need is wind, water and a little persistence. There is a lot of fun kite surfing. Once you have learned the basics of kite surfing you can go faster, jump, freestyle tricks, ride waves or take long downwinders along the coast.
What skills do you need to start kite surfing?
Most beginners are completely new to kiting, so lessons start from scratch. "Many have never had a kite in the air or practiced any other water sport in their lives. Some have never even put on a wetsuit," says Pepijn. For safety reasons you should be able to swim comfortably in open water.
How fit do you have to be to be able to kite surf?
You don't have to be a super athlete to kite surf. The kite is lightweight and hangs completely from the body via your trapeze, so you don't need a lot of muscle strength. However, a good basic fitness will help you progress faster. This also provides more fun on the water and helps prevent injuries.
Do you need kitesurfing lessons?
Yes. Any kite surfer who respects the sport will agree that beginner kitesurfing lessons are essential. In addition to getting up and driving as soon as possible, a good instructor will provide you with the necessary knowledge and procedures in the field of safety. Without this knowledge you are a danger to yourself and everyone else on the water and the beach.


Where can I get kitesurfing lessons?
At Eurofuncenter we give kitesurfing lessons in the Oostvoorne region. We have a kitesurfing school on the Oostvoornse lake and work together with the Brunotti Beachclub . We teach at Autostrand, Rockanje or the slufter. Depending on the wind. The former car beach is known for hip-deep water, no waves and currents. The ideal place to learn kite surfing. With us you can book and schedule the courses online. Our VDWS-trained instructors are ready to help you through the first meters and make you a good kiter / kitester. There is a choice of introductory kitesurfing lessons and multi-day kitesurfing lessons. So you can taste it or go full monty with the lessons right away.
Why kitesurfing lessons at the Eurofun Academy?
All our instructors must have been trained at a recognized institution [such as IKO, BKSA or VDWS ] ", says Jeroen." But, in my opinion, it is not good enough to just read the course book. An instructor with a lot of experience is better able to coach you safely and successfully. They must also have a real passion for people - without this experience they are unlikely to give you the care, attention and confidence you need as a new rider.
Which kite do you need for the Kitesurfing lessons?
No. With us, the material is included in the course fee. Your own wetsuit is useful, but in principle it is not even necessary. Sun protection is important, also in the Netherlands. Sun and sparkle in the water makes for a nice red face if you do not rub yourself. A rashguard or surf lycra can help prevent rashes. Especially when you put on a wetsuit for the first time.
What am I going to learn?
Our beginners course is divided into three core elements:
+ The beginners course starts on land with lessons in controlling a practice kite
+ Kiting on land: launch, landing and kite control
+ Kiten in the water: drag the body, check it and get it going again
+ Get up and ride on a board
Within our course you will also learn more about the following points:
+ Assessment of an area for safe kite conditions
+ Insight into wind direction, strength and gusts
+ Insight into tides, currents and dangers
+ Choosing the right equipment for the circumstances
+ Setting up, tuning and packing your kitegear
+ Safety procedures and what to do in an emergency
+ Board starts (getting up on the board)
+ Continuous driving and speed control
+ How do you keep sailing upwind and downwind?
+ Rules and rights of way on the water
How many lessons do you need before you start kite surfing independently?
+ "Most people need about 10-12 hours. That often translates into a three day course. Some need more. Or if a student has previous board experience (such as wakeboarding, snowboarding or windsurfing), plus proper one-on-one coaching, they can basically kite independently in one day, "says Vincent.
+ At the end of a course, you should have the knowledge and full skills to make independent decisions and practice safely. This means that you must be able to assess any location and have a full understanding of the weather, wind, tides and their impact, and know how to stay safe in all conditions.
How do you know when you are ready to quit kitesurfing lessons?
+ "First of all, it is essential that you are recognized by a qualified instructor," says Jeroen. "They can give you a letter stating that you have reached the appropriate level (Level 5 for VDWS) to be self-employed and able to rent a kit. Second, even if you have been signed off by an instructor, you must feel ready for it.
+ You should only kite surf independently if you feel 100 percent ready. If not, book some more lessons, guidance or a refresher course.
What are the main challenges you face as a novice kiter?
Building your confidence and confidence in your gear is the first hurdle for many. Being tied to a kite can feel scary at first, but a good instructor will help you relax and show you how safe modern kite gear is, if you use it properly. Some people take a long time to build the confidence to get started: "The biggest challenge for some is actually taking the plunge to register for their first class," says Vincent.
Trust in your kite gear!
As a beginner you will quickly have to deal with keeping the kite in the air and body dragging through the water. You quickly master that. Full control of the kite in all conditions, getting up on the board and staying upwind usually takes longer and requires a little more practice. Jeroen points to another stumbling block: "Accepting that the wind force and wind directions can change from the forecasts is a challenge for some. Some people struggle with this degree of uncertainty, so we pay extra attention to that in our lessons".
Which kite should you buy as a beginner?
There is no need to buy anything right away as we provide the equipment. "You have a better idea of what to buy after you finish the course - the location where you plan to kite, for example, will make a difference to the kite size you need," Vincent advises. "And you may have outgrown some of your entry-level gear if you buy too early. Beginners often learn with a seat harness, a larger board and a buoyancy aid. Later on, you'll likely want to switch to a waist harness, a smaller board and an impact vest. with less buoyancy. "But there is always the option to partially swap or sell the equipment once you've outgrown it. When in doubt, ask for more information from the Eurofuncenter men. They are happy to help you find the best gear that suits you.
Many kites, on the other hand, are suitable for all levels. The most common designs have an inflatable leading-edge (convex front) to attach the lines to. At the beginner level, you don't have to worry too much about specialist designs. This is because modern kites are usually available in the standard 'bow' or 'delta' shape (both are good for beginners). Other types of kites are C-kites (lots of power and lift), hybrids (a cross between a C-kite and a bow kite), and foil kites (used for hydrofoil kite surfing).
When you're ready to buy, use the instructor to help you choose the kite and kiteboard that's best for you. If you cannot afford a range of different kite sizes, you will need to hire occasionally when the wind is too strong or too light for your own kite (s).
Beginners kite set list:
+ Kite - the size you need depends on the wind strength. We always recommend 7 - 9 - 12 meters
+ Bar and lines - the correct size / length to fit the kite
+ Board - beginners often start on the larger dimensions
+ A seat or waist harness - the harnesses are easier to learn.
+ Safety knife
+ Impact vest with buoyancy - kite surfing vests have an opening for the kitebar
+ Helmet - one specially designed for kite surfing. Only necessary for lessons and is included in the tuition fee. After that it is a voluntary choice.
+ Wetsuit - unfortunately badly needed in the Netherlands
Is it okay to buy second-hand kite gear?
You can buy an older board, but a new one is better. After all, you don't know what kind of misery you take over from someone else. We always recommend new for the kites, bars and lines. Jeroen explains: "New kitegear is always under development, especially the kites. The equipment is getting better every year. If possible, go for the latest gear that you can afford technically on your budget. At Eurofuncenter we are happy to advise you on the appropriate options. with your budget.
Invest in a good kite
Once the treasure fleet has come in, most of it has to go to the best kite and bar possible. Pepijn: "There are often excellent deals to be made on a kite from last season - still new and with full warranty this is a sensible way to go," adds Jeroen. A test kite with warranty is also an option.
Do you need a license to kite surf independently?
In general, you don't need a license, but third-party insurance is recommended, in case you injure someone else or hit their boat, car or expensive kitesurf set!
Finally, tips for the first kite lesson?
"Try to relax and feel the wind and the kite with feeling, not with raw power," says Jeroen. "Tension, stress and being rushed will block that intuitive feeling and any progress. Patience is also important:" Learning to kite surf is divided into steps - each step is an important part of the progression process and needs to be practiced.
So patience is a virtue ... once mastered, you will soon forget that period and the step into the beautiful world of kite surfing begins.
Learn kitesurfing at the Eurofuncenter Academy! Everyone can do it, young and old, man and woman! Success is guaranteed with the right guidance. Eurofuncenter Academy is affiliated with and gives kitesurfing lessons according to the German VDWS system, which guarantees safety and success. In addition, Oostvoorne and the Brouwersdam are the perfect spots to learn kite surfing.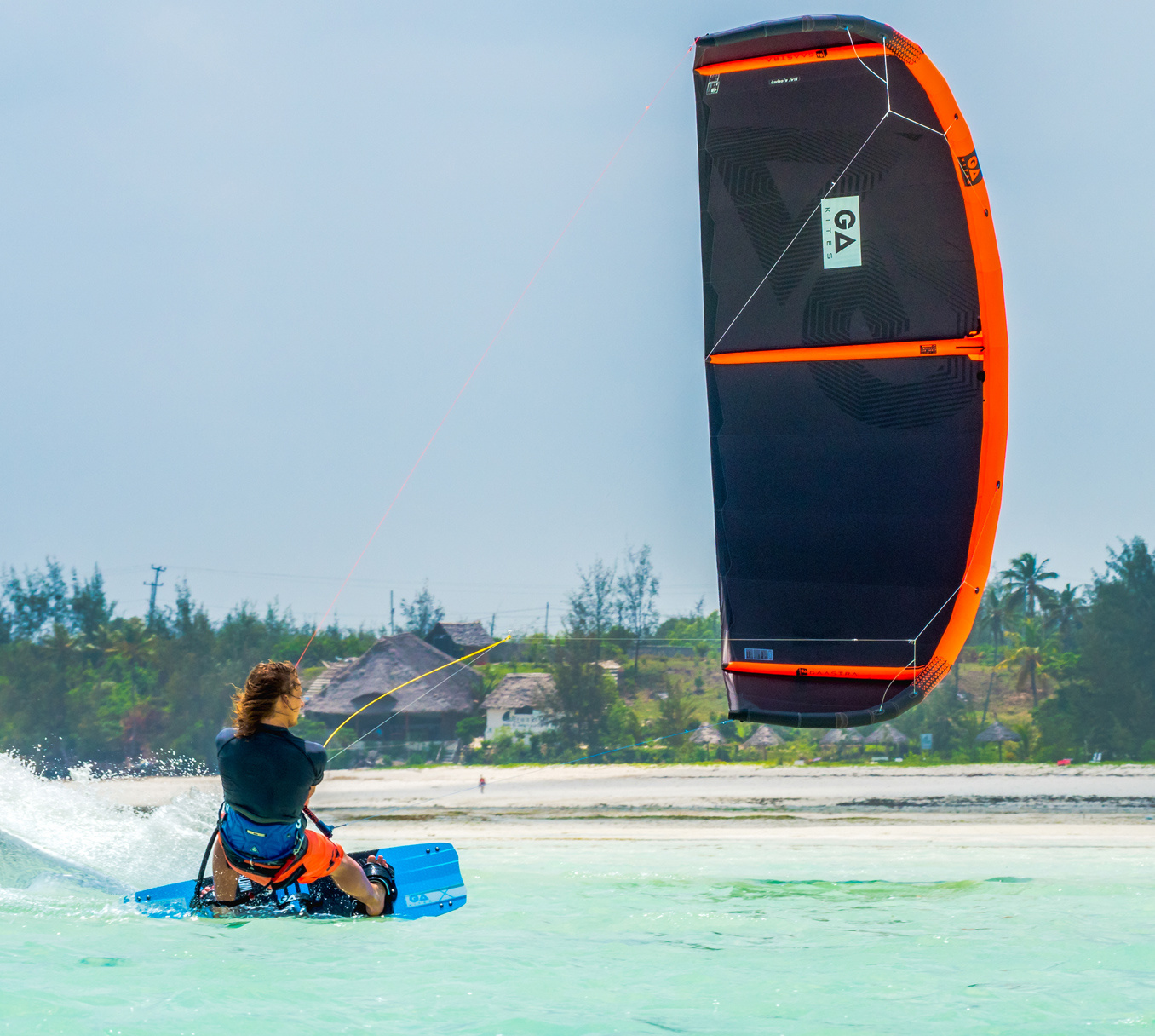 Why kitesurfing lessons at our kitesurfing school?
If you want to go kite surfing, we recommend that you take kite surfing lessons at a kite surfing school. Never get started yourself and never buy kitesurfing equipment before you have followed kitesurfing lessons! This could lead to dangerous situations, for yourself and for the environment. There is a huge sprawl in pop-up / part-time kite surfing schools. But if you want to learn to kite in a thoughtful, safe and fast way, you've come to the right place. We are professionals with two fixed locations at the best learning spots. With us lessons in your small groups of max. 3 people and you also get the unique sailing guarantee. The lessons are taught with the latest materials from Duotone and GA Kiteboarding.
The Eurofuncenter Academy has well-trained instructors who all have a VDWS certificate in their pocket. All instructors have extensive experience in kite surfing and are happy to share those experiences with you. Step by step you learn how to control the kite. Before you know it you will be kite surfing your first meters and you will have a cheering instructor! Our instructors do it with passion.