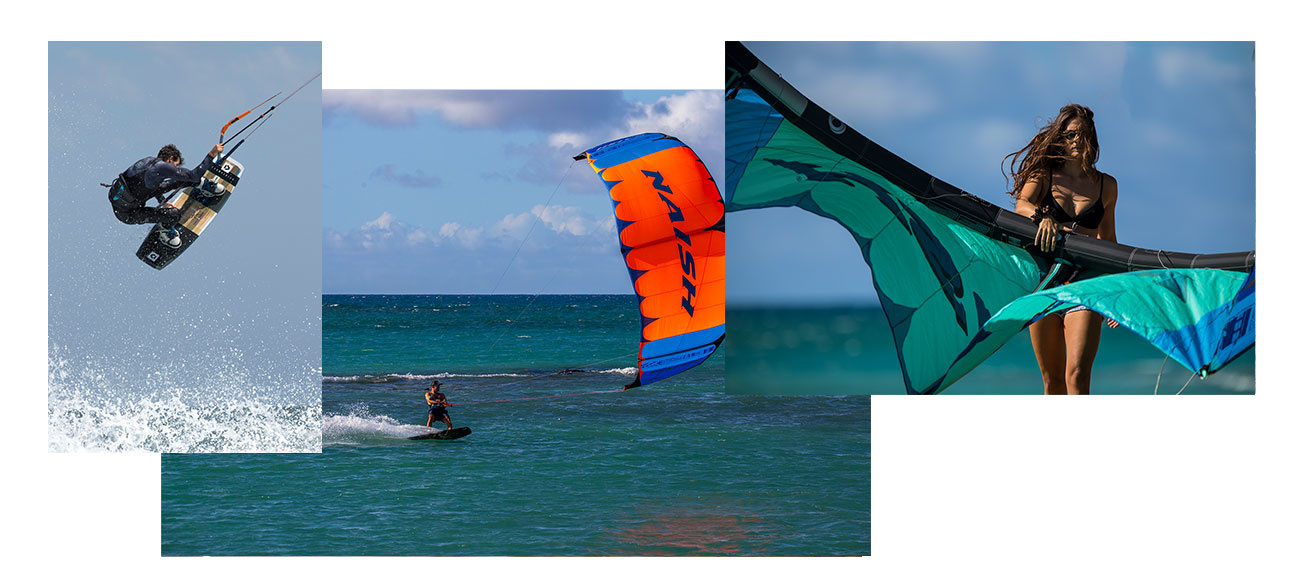 Kitesurfing
If you want to go kitesurfing, you must first take lessons at a good kite surfing school. You should invest in kite surfing lessons to master the tricks of kitesurfing. Now it happens that we also give kitesurfing lessons in Oostvoorne (car beach – slufter). You can take private lessons or choose to join groups. If you take lessons in a group, you get more rest during the lesson. The number of group courses may not exceed 3 people. It is more pleasant for students and teachers to provide as personal guidance as possible. More information on kitesurfing lessons you can find on our kitesurfles page.
Kitesurfing equipment
Once the kitesurfing lessons have been successfully completed, you can now start yourself. Now you are going to further expand your skills and making a lot of meters is the next step. But of course you can't keep renting kitesurfing equipment forever at the kiteschool. So it's time to invest in your own set! For novice kite surfers, your first choice might be a maze. There are many options to consider first. Eurofuncenter offers beautiful kite sets for all kite surfers including starters. We have kite sets for different budgets, where a cheaper one is no worse than an expensive one. After all, you have Skodas and Volkswagens. Both drive well, but there is a price difference ;-)
wetsuit
You don't want to be cold during your kite sessions, so a wetsuit is an important part of your equipment. Fit and thickness are very important in wetsuits . In the Netherlands the water is not very warm, so you can keep the thickness of your wetsuit at 5/3 or 5/4. (The first number is the thickness of the neoprene on the chest and legs, the second number is the arm thickness) The size of your wetsuit can be difficult to determine at first. Check the manufacturer's size chart to make sure the wetsuit will fit. A front-zipper is nice in connection with your harness.
kitesurf trapeze
Kitesurfing without a trapeze is not possible, so you really need this. When choosing a harness or harness you have many options, as a beginner it is best to start with a seat harness. These harnesses are more suitable for novice kite surfers because the kite is usually set at 12 o'clock. If you already enjoy sailing back and forth, you can choose to buy a hip harness now. You can enjoy it longer because you won't get enough of it soon. The disadvantage of the waist harness is that it creeps up faster, so it is important to choose the right size waist harness.
Kiteboarding for beginners
If you want a good beginner kiteboard, check out the full range of freeride twin tips. Depending on your weight and how much wind you want to play, you can choose the right size kite board. If you weigh 75 kg, take a kiteboard between 136 and 140 cm. If you are lighter, you can choose something smaller; if your weight is heavier, we recommend that you use a slightly larger board. Do not choose a kiteboard that is too small. The smaller it is, the harder it is at first. Larger boards make it easier to maintain speed and gain height due to the longer waterline.
Beginner kite
Now it comes to the real purchase, the kite. You can choose to buy new kites or a cheaper second-hand Kite. Both options are possible at Eurofuncenter. Most novice kite surfers start with a kite, then add one or two kites later to increase the wind window. Depending on the wind force and the weight of the kitesurfer, you choose the size that suits you. If you are not sure which size kite you want to use, please call or email us for more information. We recommend beginners to use the easily accessible Freeride kite. These kites are more powerful than, for example, advanced freestyle kites, making it safer and easier to start the sport. Do you want to learn more about a beginner kite or purchase your first kitesurf set? Feel free to call or email us. But of course we are also there for the kite surfer who is advanced and looking for the best gear for his sport. Our advisors are on the water every week and are happy to help you with the best possible gear.
Testing kites and kiteboards

Our men are regularly on the water with test kites so that you can try the material to your heart's content. Do you want to test a kite before you buy it. We completely understand that and it is often possible. You pick up the kite from us and in the evening you return your kite.
Eurofuncenter supplies kites and kiteboards from: Naish , Duotone Kiteboarding , Cabrinha, Brunotti , Gaastra andReedin .

So if you want to know everything about kitesurfing, first go to Eurofuncenter.
[powr-popup id="f49ab653_1636455460"]