Add your review
Snowboards Stratos 2021
Add your review
Review Snowboards Stratos 2021
€579,95
€379,00

Incl. 21% BTW
Order the Jones Stratos 20/21 simple and safe at Eurofuncenter. Questions about this product from Jones, please feel free to contact us.
Directly Available
Gratis verzonden / Free Shipping
Shipping other countries
click here
.
Producten met een ** hebben een langere levertijd | 3-7 werkdagen!
snowboard - ski - kitesurf - windsurf shop
.
More advice about this product?

Ask voor expert advice. #becauseweareriderstoo

1 to 2 days deliverytime!

Shipped with PostNL or UPS

Pick up your order in our store

Zevenhuizen - Oostvoorne

Pay Later with Klarna

Would you like to receive your order first and then pay. This can be done throughKlarna
Description
Jones Stratos 2021
We all get it; the stale feeling that creeps in when you've been doing the same thing on the same board for way too long. The Jones Stratos Snowboard is an all new, all-mountain froth machine built to put the spring back in your step and remind you why you fell in love with snowboarding in the first place. It's a capable freeride performer with a hybrid shape that's just as comfortable arcing a perfect carve as it is slashing pow turns and buttering off cat tracks. It feels like that first gulp of crisp alpine air when you roll up to the mountain, and it's just as good for the soul. Snag the Jones Stratos Snowboard and put the "je ne sais quoi" back in your ride.
Rocker Type
Directional Rocker – A hybrid rocker/camber flex pattern defined by more tip rocker then tail rocker and camber between the bindings. The rockered tip floats the board's nose and improves maneuverability while the camber underfoot provides edge hold and response. A slightly rockered tail maintains the power and stability of a traditional board but helps keep the tail catch-free initiating turns and landing switch.

Flex
Directional Flex Pattern
Flex Rating – 7 (1 Soft - 10 Stiff)
Forever Flex – All Jones boards are broken in using specialized machinery that mimics extreme riding use to help stabilize the flex and rocker profile of a board for it's lifetime.

Shape
3D Contour Base 3.0 – Freeride focused 3D Contour Base featuring a 7mm of spoon bevel in the nose and 0 - 7mm of spoon bevel in the tail. Spoon bevel starts at the rocker point.
Progressive Sidecut – At the far ends of the sidecut, the radius is incrementally increased as the edge reaches the contact point. Gradually increasing the sidecut radius towards the contact point delivers smoother turn initiation and exit as the edge tracks in and out of the snow with a less abrupt transition.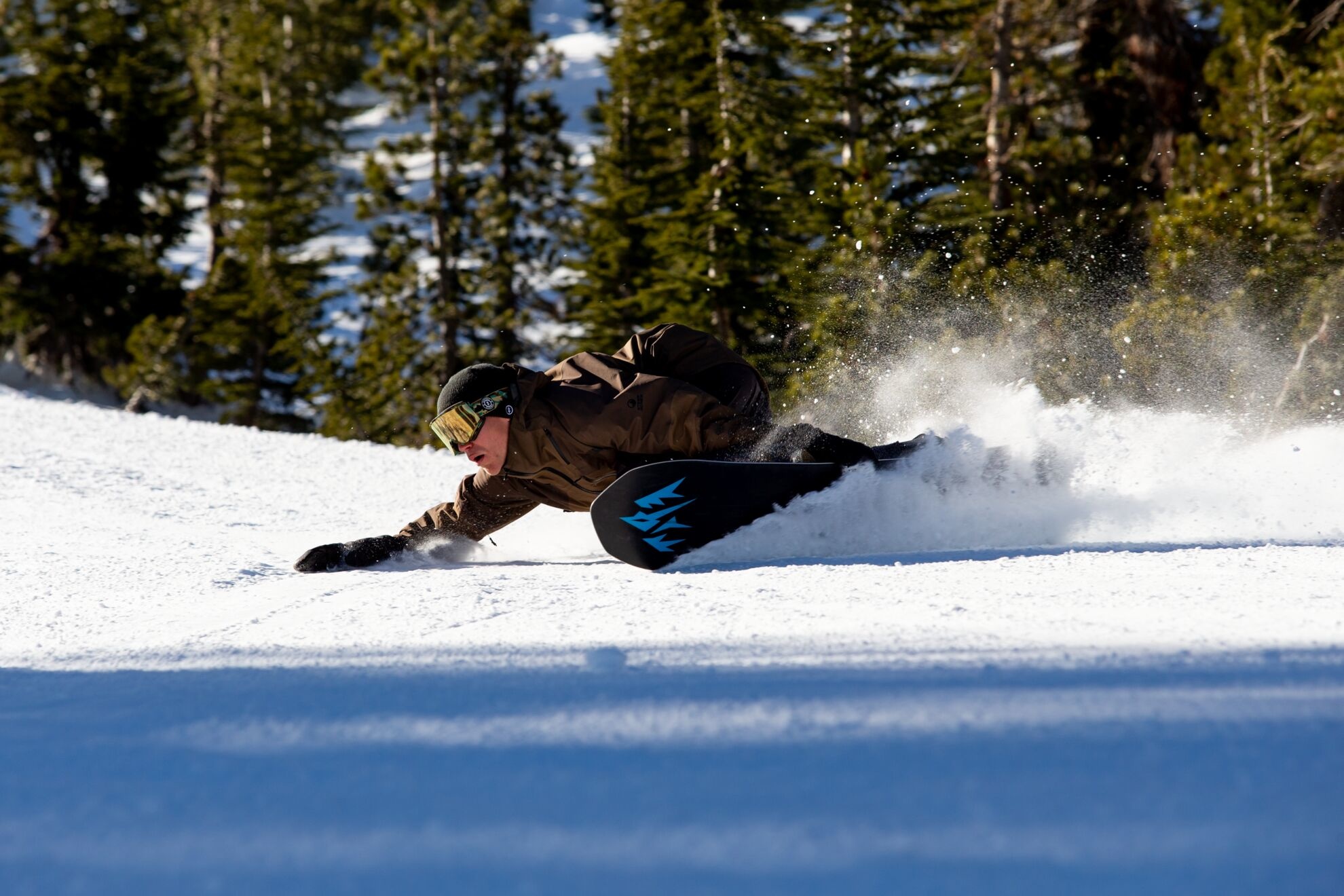 Blunt Nose – "How a board glides in powder, crust, corn or any snow more than an inch deep is dictated by it's front contact point and just past it. Next time you are in soft snow watch how much snow comes over the corner of the nose near the contact point. The billowing snow coming out from behind the tip means you are plowing through it which is obviously slowing you down. By adding a blunt nose you get the float benefits of a much longer nose without the 'snow plow' rounded tip and it's extra swing weight." - Jeremy Jones
10mm Taper – The tapered shape sinks the tail in pow for better float and quicker turns.

Core
FSC™ Ultra Core – The new Ultra Core is Jones' lightest wood core yet. Made from mostly paulownia with specially positioned poplar stringers for better durability and turn power.
V-Core – Boards with V-Cores are slightly softer in the very center of the board for improved manouverability and stiffer through the tip and tail for stability and pop.

Laminates
Power Sustainable Basalt Stringers – Sustainable stringers made with 100% natural fibers. Basalt stringers improve torsional response and transfer power from under your feet to the tips of the board to help eliminate nose and tail chatter.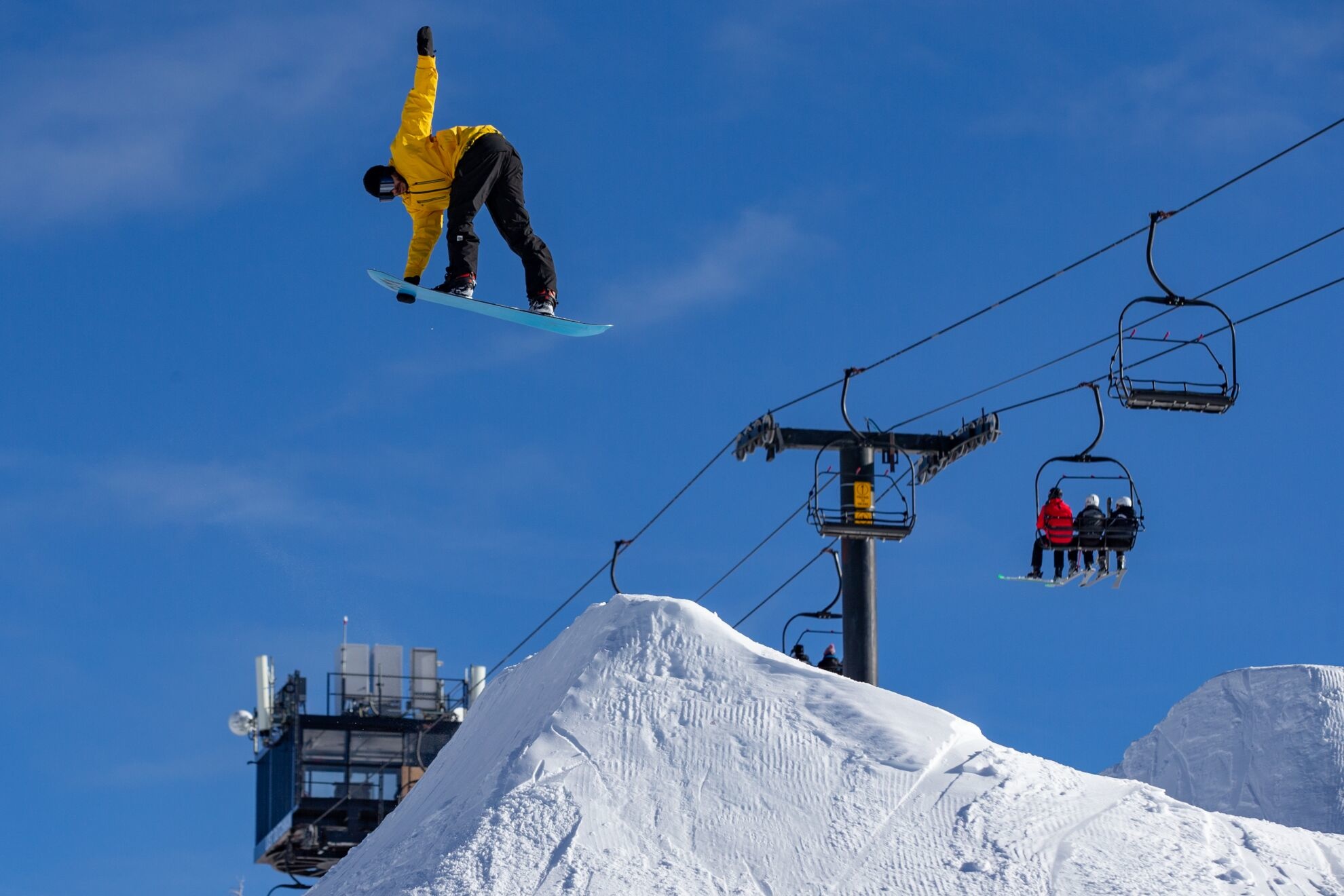 Sidewalls
Recycled ABS – ABS plastic is one of the necessary evils of snowboard production. Jones improves the sustainability of their snowboards by using only recycled plastic.

Base
Sintered 9900 Base – Sintered Ultra High Molecular Weight polyethylene with carbon additives.
Flip Flop Base – Flip-Flop bases improve board sustainability by reducing p-tex waste.

Edges
Traction Tech 3.0 – Traction Tech 3.0 features three bumps per edge (front binding, board center, back binding). The middle bump is slightly bigger than the outside bumps for better grip.
Oversized Recycled Edges – All Jones boards are made with oversized recycled steel edges for added durability and improved production sustainability.

Topsheet
Textured Eco-Plastic Topsheet – Bio-plastic topsheet made from Castor beans featuring a subtle texture for added durability. This eco-material is ultralight, chip/scratch resistant and water/snow repellent (snow sticks less to topsheet).

Additional Features
Bio Resin – All Jones boards are now built with bio-based, renewable epoxy instead of petroleum based epoxy. The raw materials used to make Super Sap Bio-Resin are co-products or waste products of other plant-based industrial processes. Producing Super Sap requires 33% less greenhouse gas emissions than conventional epoxy.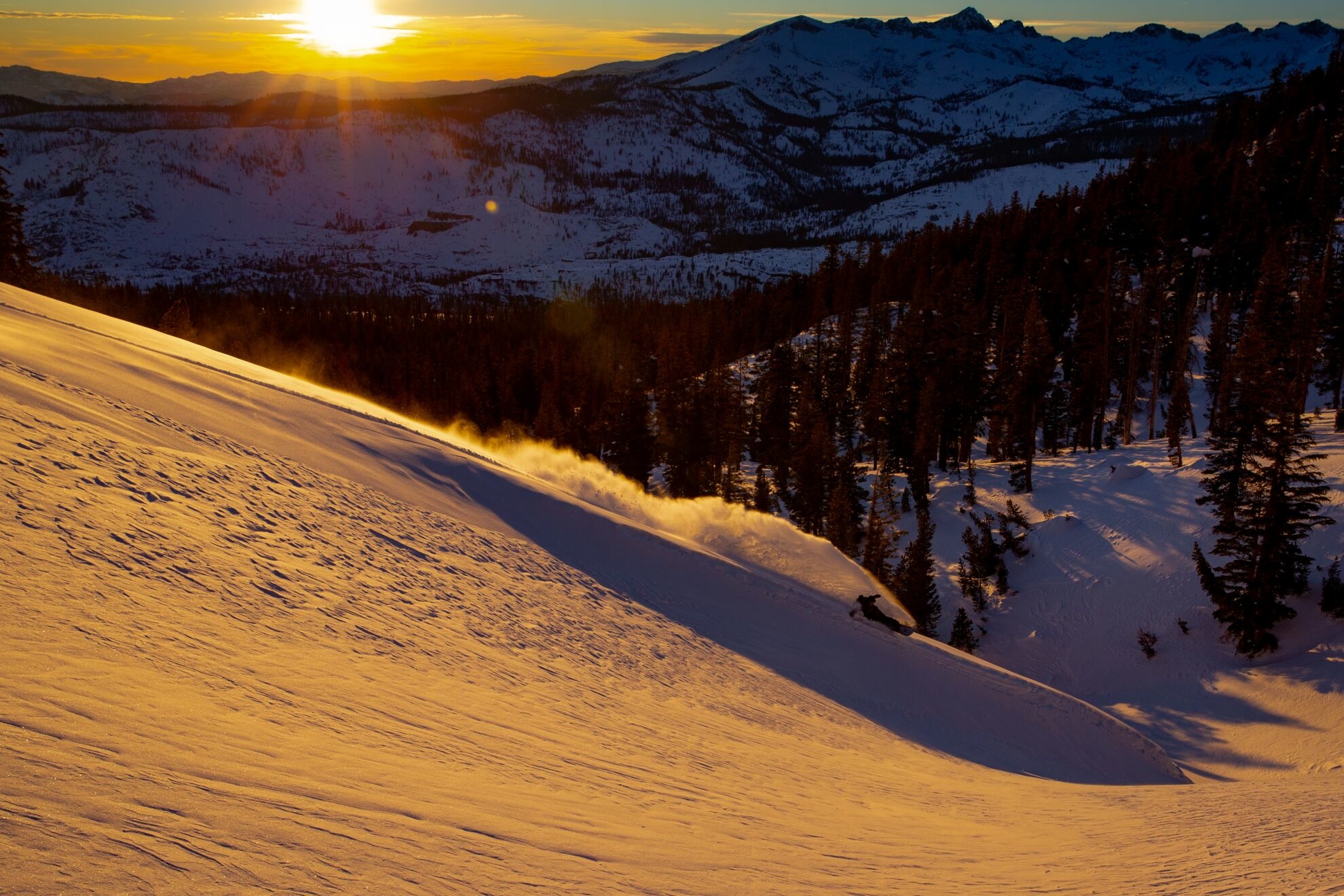 Factory Tuned – All Jones snowboards are factory de-tuned at the tip and tail so you can go right from the shop to the mountain.
Wend Natural Wax – Jones boards are ready to shred straight out of the shop and are factory waxed with WEND natural wax.

Binding Compatibility
2 x 4 Insert Pattern
Float Pack Inserts – New for 2021, Float Pack Inserts give you the option of a super setback stance for guaranteed float on the deepest days.
Snag the Jones Stratos Snowboard and put the "je ne sais quoi" back in your ride.
Download the specs of the Jones Stratos 20/21