Duotone Windsurfing Windsurfzeil E_Pace C12 2022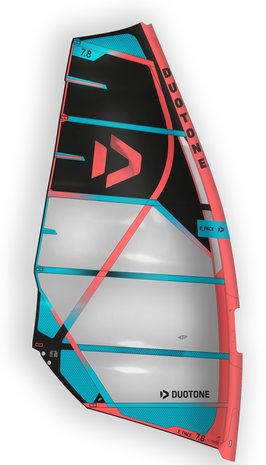 Product description
Duotone Windsurfing E_Pace HD 2022 Black / Turqoise
No Cam performance Freeride sail
Sizes: 5.4/5.8/6.2/6.6/7.3/7.8/8.2
The brand new E_PACE is exactly the kind of athletic freeride sail that makes windsurfing so fascinating and uncomplicated: easy to rig, acceleration like an e-motor and planing without pumping. Combined with the competitive speed potential and playful handling of a no-cam sail. This is pure windsurfing, with a lot of thrust, speed and the special ease for sporty maneuvers.

Versatility is the great strength of the E_PACE: versatile, versatile in a wide range of wind conditions. Thanks to the 3 IN 1 DESIGN with a much reduced luff bend, which is almost straight in the upper part, the downward tension has a major influence on the loose leech - and therefore on the character of the sail, depending on the trim. The two extremely wide MIN and MAX trim points offer the opportunity to cover an incredibly wide wind range and give the E_PACE a very different high or low end performance and sailing feel. In the MIN position it accelerates very powerfully at the slightest wind pressure and feels incredibly light - ideal also for foiling. On MAX trim, however, it offers endless speed and control, even when overpowered, thanks to its decidedly loose rear end.

Ergo: The new No Cam E_PACE is the perfect freeride sail for all waters and conditions, combining handling and rigging benefits with a crisp, direct feel and harmonious, sparkling power transfer. Offers a lot of fun, confidence, control and wonderfully easy windsurfing. We are sure that there is no No Cam sail that has a greater wind range and operating range than the E_PACE.
Especially for foiling: When the E_PACE is used for foiling, it has a special clew to make the sail even more upright!
All E_PACE are also available in monofoil free HD construction . However, the extremely durable material mix has its price, they are a bit more expensive.
| | | | | | | | | | |
| --- | --- | --- | --- | --- | --- | --- | --- | --- | --- |
| SIZE | 4.6 | 5.0 | 5.4 | 5.8 | 6.2 | 6.6 | 7.3 | 7.8 | 8.2 |
| BOOM MAX (CM) | 158 | 162 | 176 | 182 | 190 | 194 | 206 | 212 | 220 |
| VTS TAIL TENSION | MIN +1 >< MAX +4 | MIN +1 >< MAX +4 | MIN +1 >< MAX +4 | MIN +1 >< MAX +4 | MIN +1 >< MAX +4 | MIN +1 >< MAX +4 | MIN +1 >< MAX +4 | MIN +1 >< MAX +4 | MIN +1 >< MAX +4 |
| LUFF MAX (CM) | 404 | 414 | 434 | 436 | 442 | 462 | 474 | 484 | 494 |
| VARIO/FIX TOP | FIX | FIX | FIX | FIX | FIX | FIX | FIX | FIX | FIX |
| BATTENS | 6 | 6 | 6 | 6 | 6 | 6 | 6 | 6 | 7 |
| CAMBER | -- | -- | -- | -- | -- | -- | -- | -- | -- |
| WEIGHT (KG) | 3.50 | 3.70 | 3.90 | 4.10 | 4.30 | 4.50 | 4.70 | 5.00 | 5.30 |
| MAST TYPE (BEST/ALT.)* | PLATINUM / GOLD>SILVER | PLATINUM / GOLD>SILVER | PLATINUM / GOLD>SILVER | PLATINUM / GOLD>SILVER | PLATINUM / GOLD>SILVER | PLATINUM / GOLD>SILVER | PLATINUM / GOLD>SILVER | PLATINUM / GOLD>SILVER | PLATINUM / GOLD>SILVER |
| MAST GEO (BEST/ALT.) | RDM/SDM | RDM/SDM | SDM/RDM | SDM/RDM | SDM/RDM | SDM/RDM | SDM/-- | SDM/-- | SDM/-- |
| MAST LENGTH (BEST/ALT.) | 400/-- | 400/-- | 430/400 | 430/-- | 430/-- | 430/460 | 460/-- | 460/-- | 490/460 |
*NOTE: TOP CAP NOT COMPATIBLE WITH BLACK.50 MAST
Product specifications
Article number

010493630137

SKU

9010583044781

EAN

855121000007