Duotone Kiteboarding Kite Rebel SLS C08 vanilla 2023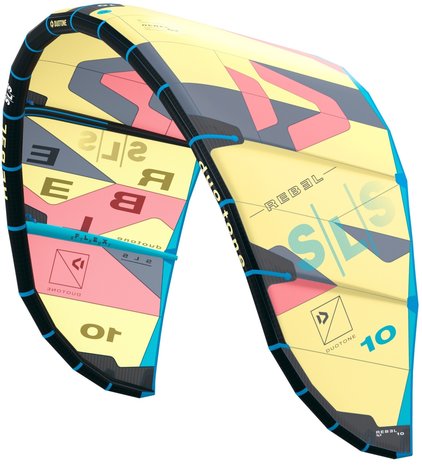 Product description
Duotone Rebel SLS C08 vanilla 2023
The high-end jump and freeride monster for 2023! This "fly like a pro" kite now has even more feeling and the little finishing touches!
Mega good jump height with a mega good hangtime and upwind sailing like a pro. The great thing is, it takes no effort at all with this kite! The Rebel will only be available in the SLS version in 2023. In our opinion, this was a good choice for Duotone because this kite with 5 struts and a high aspect ratio feels much smoother and turns faster. The wide shape also makes it possible to gain altitude extremely fast. You don't even have to steer very precisely or adjust your power to jump, it always does!
If your timing is 100% right, you'd better have your Woo or Surfr app ready, because you'll go really high.
Are you an advanced rider but less ambitious in jumping and looking for a great freeride kite? Then you can also really appreciate this new Rebel. It feels very solid, builds up pressure gradually and gives you a lot of confidence. Our experience is that it generates a lot of power per m2 . Perfect if you have an extra kilo in the scale.
In 2023 no big changes have been made but there are some differences. For example, the kites now have an even more constant rotation speed thanks to flex-struts. Also, steering movements can now be controlled even better.
As far as we are concerned, this kite is the best choice if you like to jump high and far easily and are looking for a kite that feels solid and doesn't stall.
What are the core properties in our experience?
Jumping like a pro with lots of hangtime and height
Big wind range and lots of power per m2
Incredibly good upwind sailing
Solid and comfortable handling
Many adjustment possibilities on the wingtips
Product specifications
Article number

010507410136

SKU

9010583142494

EAN

837615000030