Duotone Kiteboarding Kite Vegas Hadlow Blue C7 2020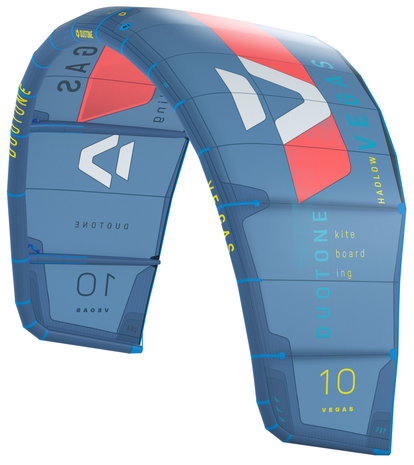 Product description
Duotone Vegas

Who's the Vegas for?
Beginner: No go. Don't. Whatever others say. This is nobody's first kite. Far too aggressive and difficult on many levels. Rather look at a good Freeride kite like the Duotone Mono or Evo.
Freerider: No, sorry, because of the C-shape of the kite it is a lot worse with less wind and you have to sail it much more technically. Not nice if you want to freeride.
Freestyler hooked in: Not ideal for novice freestylers, but the experienced riders can do very thick kiteloops. 
Freestyler/Wakestyler unhooked: YES, you've come to the right place! Maybe the best wakestyle / crocheted freestyle kite on the market! Very predictable in the kiteloops and a super good slack on the lines.
Wave rider: For this you better use the Duotone Neo, dice or mono.
Strapless freestyler: Also here you can better use a Duotone Neo or Cabrinha Drifter.
Foiler: No, you don't. You better watch the Duotone Mono or Naish Boxer here.

Now I want the Eurofun story, what a kite it is:
The Vegas is one of the world's best kites for riders who want to do unhooked wakestyle tricks and thick kiteloops. 
Because of the pure C-kite profile you have unbelievable slack after your doll and that makes sure you have enough time for all your tricks. 
For kiteloops it's very predictable because of its constant pull and stability.
Not to go too deep into the technical story:
If you sail with boots and want to do handle passes, grab obstacles, do hard high kiteloops, the vegas is for you! You can sail it in 5 lines and 6 lines (hadlow setting).
For all beginners: THIS IS NO BEGINNERS KITE! Do you want to get into the wakestyle corner as soon as possible after your first lessons? Then start with a Duotone Dice, Cabrinha FX, Naish Dash or GA Pure. This will give you enough years to get your first Vegas!
What's with it:
- Kite bag
- Kite
What's not there, but needed:
- Bar (preferably a bar of the same brand because of y-splitting otherwise a Duotone Clickbar)
- Pump
- Wetsuit
- Trapeze
- Feel like kiting
- Board
- 2nd and 3rd kite (optional of course, but very nice)
Plus points:
- Lots of doll
- Lots of slack
- Predictable power in your kiteloops
- Fast reactive kite
- Very good at wakestyle
Cons:
- Actually only suitable for unhooked freestyle, wakestyle and big air kiteloops.
What else do I need to know:
If you buy your kites from us you have to swing if you see one of us on the water!
#becauseweareriderstoo #riders2
For questions you can always come to one of our shops, call or send an email to [email protected]
[powr-popup id="65859be2_1637758684"] [powr-form-builder id="735d95b2_1637758837"]
Product specifications
Article number

010432810125

SKU

9008415924875

EAN

837613000035

Brand

Duotone Vegas

Type

Wakestyle, freestyle

Season

2020

Lines

5 or 6

Number of struts

5

Pump system

one pump

Bag

Branded bagpack

Warranty

100% Factory Warranty
Show more
Show less