Duotone Kiteboarding Twin Tip Kiteboard Soleil SLS 2022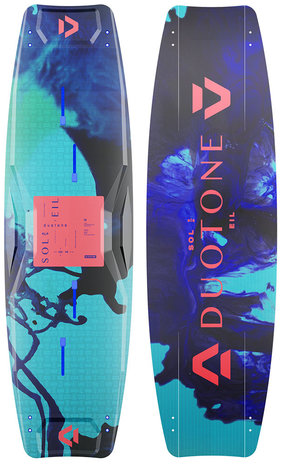 Product description
Duotone Kiteboarding Soleil SLS 2022
A high-performance freeride/carving women's kiteboard with excellent freestyle properties. That's what the Duotone Soleil SLS stands for! Just like the normal Soleil this board has a little more stiffness in the middle and flexible tips which makes this board comfortable and fast. Ideal for the ladies who are looking for a kiteboard with nice feminine colors but actually very good at kiting. The use of Innegra (woven carbon) makes this a torsionally stiff and light board that reacts directly to every movement and jumps well. The mono concave at the bottom provides sublime up-wind properties. This gives you even more time to concentrate on your new moves and keeping height is no problem at all.
The Duotone Soleil in a nutshell:
- perfect carve properties with a colorful feminine tint.
- By using Innegra (woven carbon) maximum grip, control and "pop".
- Fast docking and excellent up-wind performance.
This board can best be combined with the new 2022 Duotone Entity pads. These Duotone pads and straps are also available in small and medium sizes especially for the smaller foot. In addition, they offer optimal grip and control where every movement is transferred to your kiteboard.
[powr-popup id="65859be2_1637758684"] [powr-form-builder id="735d95b2_1637758837"]
Product specifications
Article number

010486080136

SKU

9010583040806

EAN

855229900534