Duotone Kiteboarding Twin Tip Kiteboard Select SLS 2022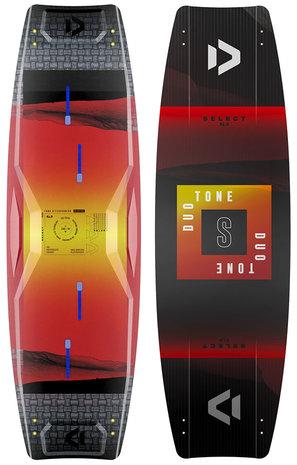 Product description
Duotone Kiteboarding Select SLS 2022
This kiteboard is a perfect mix of freeride and freestyle. The Select is very comfortable and has good cushioning. It cuts noticeably smoothly through the "chop" and has a lot of grip. Are you a real freerider and do you also like a jump? Then this is really a board for you! The board is lightweight, has kevlar stringers for even more control and a good terminal speed.
The Select is available in 2 versions. The standard version that already sails very well and a special SLS version where "Innegra" is processed in the core. Thanks to Innegra, even more cushioning is created, but above all even more response. With the SLS, every movement is converted into a reaction of the board without losing comfort (which is often the case with carbon).
We only prefer the Select SLS over the standard version if you have a lot of experience and are looking for an ultimate and precise board feel with maximum response. Otherwise, the normal Select is more than enough.
What are the core properties in our experience?
• A lot of sailing comfort so that you will almost like choppy conditions
• Good response to almost every movement with a nice playful feeling
• This board doesn't punish but it does challenge you
• Especially in the SLS version, always and everywhere have maximum control and grip
Product specifications
Article number

010486060141

SKU

9010583040684

EAN

855229900532