Duotone Kiteboarding Twin Tip Kiteboard Jaime 2022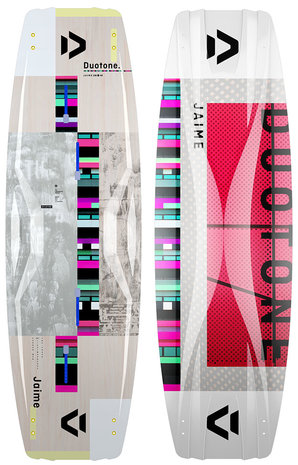 Product description
Duotone Jaime 2022
The Duotone Jaime has long been a household name among high-performance freestyle twin tip kiteboards. This board is fast, gives you infinite grip and sails thanks to the medium-flex also quite comfortable. This kiteboard offers a perfect distribution of length-flex and torsional stiffness with which you can create a big "pop" without too much effort. Ideal for a nice trick. Thanks to the new bottom with a "quad concave" and "tip diffuser" you can make softer landings than before while the performance and grip is optimized. 
The Duotone Jaime in a nutshell:
- optimal distribution of longitudinal flex and torsional stiffness for a solid "pop".
- This board has a quad concave and tip diffuser for softer landings.
- yet medium-flex for sufficient comfort.
This board can best be combined with the new 2021 Duotone Entity pads. These Duotone pads and straps offer optimal grip and control where every movement is transferred to your kiteboard. The "shooting out of the footstraps" during the launch is now a thing of the past.
[powr-popup id="65859be2_1637758684"] [powr-form-builder id="735d95b2_1637758837"]
Product specifications
Article number

010486030139

SKU

9010583040431

EAN

855229900529