WHICH SNOWBOARD FITS WITH WHAT SNOWBOARDER?
Buying a snowboard naturally starts with brand and type of orientation. Which snowboard brand do you think suits you and what brand does the snowboard have that you are looking for. Soon you will see that the brands throw terms so that you can no longer see the wood for the trees.
Freestyle, backcountry, splitboards, all-mountain freestyle snowboards. And then this is just a small selection of what you will hear. Although we of course preach for your own parish that you can best buy a snowboard online, we would like to present a number of things that make it a little easier to make your choice. Online or offline.


Be honest ...
Of course we all think we can be Shaun White or Travis Rice. But if you are very honest with yourself then you know that apart from the exception, we all want to slide down the mountain with an occasional piece of powder or a sconce. Is not bad at all, because that is precisely what makes this sport so cool. That you can do when and where and how you want it yourself. But if you don't know what you want, it will also be difficult to make a good snowboard choice.


Nice and stiff snowboard right?
A snowboard has two types of flex types. The flex over the length of the snowboard and the flex over the width of the snowboard also called torsional rigidity. These two flexes are related to each other. A limp snowboard with high torsional stiffness will snowboard differently than a snowboard with a low torsional stiffness and rigid flex length. But you can leave that to the manufacturers that they will find the best mix for you. What do you notice about the different flexes in a snowboard? The stiffer a snowboard, the better it is to handle at higher speeds and in cut corners. Is great for when you are advanced, but if you have just started then a softer snowboard is better and will give you more pleasure. A smoother snowboard does better at low speeds and is therefore suitable for beginners. A board with a softer flex will help you improve your curves and technique. Most freestylers also feel better on a snowboard with a softer flex.


Length and width of a snowboard
The key question is often, how long should my snowboard be ?. The length of your snowboard is mainly determined by your weight. The heavier, the more grip you lose in the turns on a snowboard that is too short. Are you light and are you on a snowboard that is too long then the person has too little weight in the bowl to switch sides well. Such a person will experience that the snowboard responds slowly. The width is also important here. If you have small feet, but still have a heavy build, then you will still have to take the width of the snowboard into account. Often the snowboards also get longer to get a wider snowboard. Fortunately, there are already many manufacturers that take into account shorter snowboards with "wide" waist sizes. The waist is the narrowest part of the snowboard in the middle.

It is important that you create as little toe and whole-drag as possible. Toe-and-drag means that your shoes hit the snow on both sides of the snowboard. Means that you slow down and in extreme cases look at the snow up close. Too wide a snowboard for your feet again gives the problem of a slow edge change due to the pressure points being too far away. A good salesperson can help you through this process, but with common sense you will come to an end. With a size 46 on a 146 cm snowboard is a mission impossible.

Below an indication of snowboard length in relation to the height and weight of the rider:
What size snowboard do I need?
RIDER LENGTH M / F (CM)
RIDER WEIGHT M / F (KG)
SNOWBOARD SIZE M / F (CM)
147
45 - 50
128 - 136
152
52 - 58
133 - 141
158
57 - 61
139 - 147
163
61 - 66
144 - 152
168
64 - 70
149 - 157
173
68 - 75
154 - 162
178
73 - 79
159 - 167
183+
77 - 93+
160+


Radius of your snowboard
The radius of the snowboard is indicated in meters. The side of your snowboard is part of a full circle. The smaller the radius, the shorter the turns.


Do I have to have a Freestyle, Freeride or Allmountain snowboard?
The snowboard lines categorize themselves into three different types (actually 4, but alpine snowboards are a separate case). Freestyle, Freeride and Allmountain snowboards are the most frequently heard terms.


1. Freestyle snowboard
Freestyling is a broad concept. Here you also have subgroups such as boys who spend the whole day in the park on kickers and slides. So you have the rail sliders, who do nothing but look for rails. If necessary in their own street to go from and then you have the happy few who look up the half pipe. What they have in common is that they want to perform the tricks as well and boldly as possible. These snowboards often have a twin shape, which means that the front and back have the same shape in terms of flex and shape. So whether you go forwards or backwards (fakie or switch), the board always performs the same.
2. Freeride snowboard
Snowboarding backcountry and always looking for that white gold. Preferably one meter deep. Not always available, but always worth looking up. Freeride snowboards such as those from Jones Snowboards are generally meant for better powder work. Often have a directional shape. What so much content that the board back a bit stiffer and the waist also progressively builds backwards.
The stiffness in the back is nice to let the nose float more in the powder. A stiffer tail is also useful on the slopes when cutting corners. These snowboards are quite stiff, so not immediately suitable for beginners.
3. All-mountain snowboard
These are the all-rounders. Whether you enter the park, powder off piste. Is not a problem at all and these snowboards will guide you through it without any problems. Of course there is also a difference in the structure of the snowboards. Some are more freeride oriented and some more freestyle. For example in a 60-40% ratio. The brands often indicate where it is going ...
Shapes and flex patterns of snowboards
It used to be simple. Then the men were made of steel and there was only type of snowboard and that was camber. In different variations, but there was bias in the snowboard. That had its pros and cons. The disadvantage was that learning to snowboard was quite tough, because the preload meant that turning was not easy. If you were able to turn, the pre-tension was less important. The advantage was that the board remained more stable at higher speeds and gave more pop with jumping. But the sport has also evolved and in the meantime there are various flex patterns for various types of riders. but we start with the shape types that are available

1. Directional shape snowboards
The directional shape occurs in the all-mountain and freeride snowboards. This is because these snowboards are usually driven in one direction. The snowboards are often stiffer in the tail and softer in the nose so that the snowboard "floats" in the deep snow and the snowboard remains more stable while carving on the slopes. Usually the inserts on which you mount the binding are slightly backwards.


2. True Twin Shape snowboards
A real twin is the same in terms of dimensions and flex pattern both front and rear. The bindings are mounted centered. This makes it easier for you to forward and reverse (switch) snowboarding. This shape is common with freestyle snowboards. The shape is ideal for in the park or in the half pipe because you want to be able to snowboard in both directions

3. Directional Twin Shape snowboards
A combination of a twin and a directional board. A symmetrical shape (equal nose and back) combined with a directional wood core (softer nose and stiffer tail). Directional twin shapes are common on all-mountain freeride and freestyle boards.

Rocker types of snowboards
Where in the past you mainly saw camber boards on the slopes, in recent years we have seen rocker boards making a huge advance. Much has been experimented in recent years with the development of new rocker types. The differences are explained below.

1. Camber snowboards
The camber is the traditional flex for snowboards and still popular with the more expensive freestyle and park models. This is because it returns a lot of "pop" and many of the riders' input in the form of stability and price stability. A board with camber has an ascending arc from the front to the back and when the weight of the rider comes on, the board delivers a parallel walking trap and grip in the snow.




2. Rocker snowboards
A rocker snowboard is the reverse of a camber. The "banana" shape provides more float in the powder and the board turns more easily under your foot. Rocker snowboards are also more forgiving if you jumped out of a rotation and had too little rotation.




3. Flat base snowboard
A snowboard with a flat flex pattern is also exactly what the word says. So flat. This flex gives the average of a camber and rocker pattern. Is more forgiving with turns and better on the edge grip compared to a rocker snowboard.




Then there are all kinds of combinations of camber, rocker and flat. The result is the most important types below
4. Rocker-Flat-Rocker (camrock snowboards)
This is a variation that gives you a little more grip on hard snow than with a full rocker, while maintaining ease of rotation and buoyancy in the powder. The area of use is between a full rocker and a flat snowboard.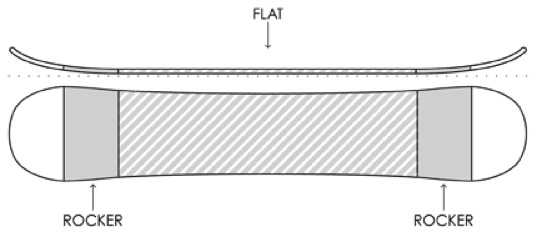 5. Gullwing shape (camber-rocker-camber)
This is a flex profile where the rider weight pushes the camber down. This gives you a nicely pressurized carve area between the rider's feet. But the POP and carve precision remain on the nose and the back.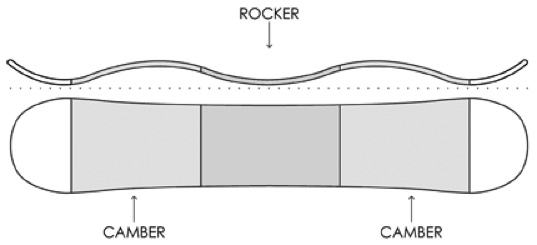 These were the most important flex forms. As the manufacturers continue to evolve and experiment, there will be more variations on the theme. What we do see is that the camber variants are starting to come back. We have done our best to keep it simple, but it is quite possible that manufacturers give a different reading to the story. You can approach it in several ways.

So what's better? It is clear that a camber board is made for charging. So if your second name is 'popping' then a camber snowboard is your choice. You just have more grip, more pop and more stability. Rocker snowboards are better for beginners or for snowboarders who are looking for an easily forgivable snowboard. Or as a freestyler, a rocker board is sometimes better because you are not waiting for a board that constantly bites in the snow. Is one worse than the other? No definitely not. It all has to do with your own ambitions. If you have that clear, then it is not difficult to choose.

Insert patterns in your snowboard
Snowboards come with inserts to mount the binding. We actually know three different types.

1. 3x3 pattern
This is the pattern invented by Burton. The binding is mounted with three screws positioned in a triangle.

2. 4x4 pattern
This is what the rest of the industry uses. The inserts are 4 cm apart in a square.

3. Channel EST
Invention of Burton Snowboards where the binding is mounted in a channel with two screws. This allows you to mount your binding on the mm. The disadvantage is that a channel binding cannot be used on other brands. But Burton has invented the Re: flex series for that which can be mounted on channel as well as on 3x3 and 4x4.

Hopefully with this brief explanation you will have more handles that you can use. If you have questions about a specific snowboard from our collection. Do not hesitate to call or email. We are happy to help you with the right board. We have tested many of the boards ourselves or read the reviews of them. So we can always give snowboard advice. Also a negative.